Discover more from Older Not Over
A newsletter and community for those who thought it was too late to change the course of their lives. Just because you're older doesn't mean it's over.
Older Not Over #1 - Lee Child
A newsletter and community for those who thought it was too late to change their career or embark on a new adventure, curated by Alan Swan.
"You are never too old to set another goal or to dream a new dream." C.S. Lewis
Hello, and welcome to the first edition of 'Older Not Over'.
I'm excited where this journey could lead and if you feel you know someone who would benefit from this newsletter please share the link below for them to subscribe.
If you want to get in touch, share your own story or have come across a brilliant example of and 'Older Not Over' adventure please do get in touch at info@oldernotover.com
So let's get going, lots to inspire you this week including my conversation with bestselling author Lee Child and his Jack Reacher novels. Lee was made redundant from the job he loved at 40 but dusted himself down and went on to become one of the worlds biggest selling authors! He shares how he did it in this inspiring chat below. 
Also, this week did you know clothing retailer GAP was co-founded by a 41-year-old? How to start stand up comedy in your 30's and our book recommendation of the week.
For now, have a great week and don't forget, just because you're older, doesn't mean it's over!
Alan
---
'Older Not Over' Podcast
My guest this week is Lee Child, bestselling author of the Jack Reacher novels.
Born in Coventry, raised in Birmingham, Lee now lives in New York. It is said one of his novels featuring his hero Jack Reacher is sold somewhere in the world every nine seconds. His books consistently achieve the number-one slot on bestseller lists around the world and have sold over one hundred million copies.
To listen to the latest episode of 'Older Not Over' click on your favourite platform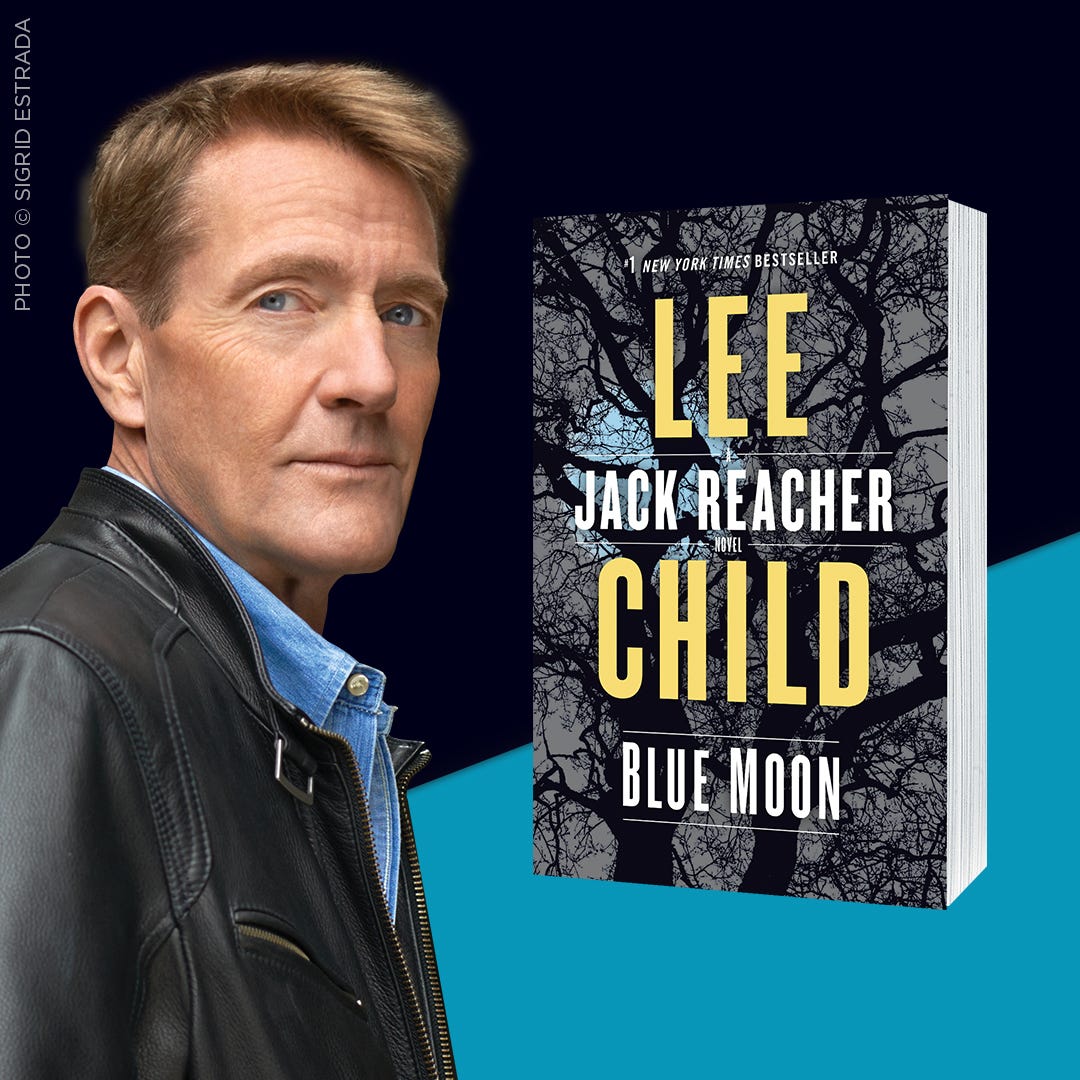 Want the latest on what Lee Child is up to? Here's a great overview from this months edition of "The Economist" In lockdown with Lee Child- the man behind Jack Reacher looks forward to a retirement of smoking and solitude. His next book 'The Sentinel' will be hitting bookshops in September 2020.
---
3 stories to inspire you this week.
Donald Fisher co-founded US clothing retailer Gap when he was 41
So Gap was all over the news recently as potential president to be Kanye West and the clothing retailer struck a 10-Year Deal for a 'Yeezy Gap' Apparel Line. But did you know the story of how Gap was founded? It all began with trying to change a pair of jeans that did not fit. https://www.theguardian.com/business/2009/nov/18/donald-fisher-obituary
Shalewa Sharpe on Starting Stand-up at 37
It's not too late to tickle that funny bone. Your life experience could be the secret to finding not your inner voice but your funny voice https://www.brut.media/us/entertainment/shalewa-sharpe-on-starting-stand-up-at-37-ad1da793-ddf7-4d19-b4d0-686ff5c9faaf
Finding Hollywood success relatively late in his early 30's Hugh Jackman is now one of the worlds biggest movie stars. Originally Hugh wanted to be a journalist but a twist of fate led him down a more interesting road. This interview with Hugh Jackman by Tim Ferriss is incredibly inspiring https://tim.blog/2020/06/30/hugh-jackman-transcript
---
You are not alone right now…..
A study of adults has found that 39 per cent of respondents are considering changing careers, with one in ten attempting to retrain for a completely different job during the coronavirus crisis https://www.mirror.co.uk/news/uk-news/millions-considering-career-change-coronavirus-22017222
---
For Book's Sake!
Our recommended read this week is "Finish: Give Yourself the Gift of Done" by Jon Acuff
The world is littered with half-finished books, almost started businesses and nearly done diets. Who knew the secret was to have more fun, kill the hidden rules you live by and embrace imperfection? Jon Acuff did, and you're about to as well.
The book is all about how perfectionism can hold you back. "For every Susan Boyle, there are a thousand shower singers who didn't think they were good enough to even audition.  That's ultimately the worst thing that perfectionism does. It makes sure you never even try"
---
Until next week….
"Change is painful, but nothing is as painful as staying stuck somewhere you don't belong." Mandy Hale
---
Thanks for reading! Before you go, if you have found value in this edition of the newsletter, or just want to support the content I'm producing, you might consider buying me a cup of coffee!