Discover more from Older Not Over
A newsletter and community for those who thought it was too late to change the course of their lives. Just because you're older doesn't mean it's over.
#5 - Richard E. Grant and the smell of success, a midlife reboot and Martina Navratilova's advice on internal dialogue
A newsletter and community for those who thought it was too late to change their career or embark on a new adventure.
Hello and welcome to this weeks 'Older Not Over'.
I want to start this weeks newsletter with a story sent to me by my good friend Craig Bruce who is a world-renowned Australian radio programmer. His latest podcast series is all about life after radio. So fairly apt for what we write about each week. What Craig had to share is very solid advice. It's a passage from legendary tennis player Martina Navratilova speaking about growing older.
"Martina, how do you maintain your energy and focus at the age of 43?
Her reply?
"The ball doesn't know how old I am…
….. you need to stop yourself from stopping yourself. Every game in life is actually played on a 6-inch ground – the space between your two ears. The key factor to performing well in life and in every arena is the ability to control the quality and quantity of your "internal dialogue". Performance is potential minus internal interference.  Live in peace, not in pieces"
It's so true. That little voice in your head can be your biggest cheerleader or your worst enemy. If you don't believe the change you want to make, if you don't trust your own voice how can you expect to make your way to where you want to go.
Stop stopping yourself. Take action today, no matter how small. The ball doesn't know how old you are.
Alan @alanswan
---
As always if you feel you know someone who would benefit from this newsletter, please share the link below for them to subscribe.
---
'Older Not Over' Podcast
My guest this week is Richard E. Grant
Richard E Grant was born in 1957 and grew up in Swaziland. He moved to England in 1982 and made his acting debut in 1987 with Withnail and I, Bruce Robinson's cult film. He has since starred in numerous Hollywood films and TV dramas, including Gosford Park, Dracula, The Iron Lady,  Logan most recently Star Wars: Episode IX. In 2019 Richard received his first-ever Oscar nomination for best supporting actor in the film "Can You Ever Forgive Me?"
An exploration of his life-long love affair with scent, Richard E. Grant started a very successful side career at the age of 57 when he started his own perfume range in 2014 called 'Jack'. From taking on the world's leading perfume brands to Oscar nominations late in life. Richard E. Grant's outlook on life is a breath of fresh air (with a hint of earthy, citrus scent of Jack.)
This conversation which happened in October 2017 holds a special meaning to me as it helped inspire the newsletter you are reading today.
To listen to the latest episode of 'Older Not Over' click on your favourite platform.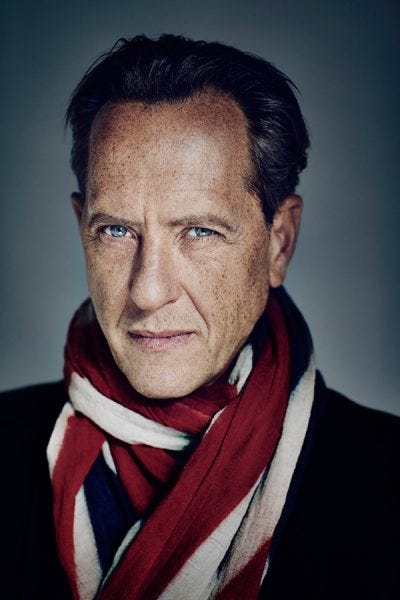 ---
Three stories to inspire you this week
Discovered this brilliant Twitter thread by Heidi N. Moore the other day. In it Heidi shares an amazing article written by writer Jenny Bhatt It's a raw, real-life account of as Jenny puts it a "midlife reboot" leaving her corporate executive life and becoming a writer in her 40's. 
https://longreads.com/2018/11/28/emerging-as-a-writer-after-40/
I'm 44, have two kids - and I went back to college for a career change: Here's how I did it 
Orla Walsh graduated from Griffith College's H.Dip in Arts in Drama Education in June 2019. She's now a drama teacher, working at The Little Duke Theatre in Drogheda, Ireland. Orla was a mature student, fitting study in around parenting two kids. Here, she shares how she made it all work – and whether or not the challenges were worth it https://www.thejournal.ie/griffith-college-orla-walsh-5181666-Aug2020/
My Favorite Career Reinvention Advice From A Legend
Barbara Sher, a pioneer in the career development industry, passed away in May, at the age 84. The legacy she leaves is this incredible advice. https://www.forbes.com/sites/nextavenue/2020/09/01/my-favorite-career-reinvention-advice-from-a-legend/
---
For (Audio) Book's Sake!
As always every book I recommend I have read from cover to cover or in this case listened to all the way to the end. Our recommended listen this week is "Total Recall: My Unbelievably True Life Story" by Arnold Schwarzenegger. (The link contains a 30-day free trial)
This book was actually written in 2012 but I came across it by accident on Audible at the start of the year and on a whim jumped in. It turned out to be a really enjoyable listen and definitely left me with a whole new respect for Arnold Schwarzenegger and what he has achieved over his career. It definitely reinforces the idea that goal setting and repetition is key to succeeding. Also in the spirit of this newsletter, Schwarzenegger decided to put his movie career on hold at the height of his success to pursue a career in politics late in life.
"Born in the small city of Thal, Austria, in 1947, Arnold Schwarzenegger moved to Los Angeles at the age of 21. Within 10 years, he was a millionaire businessman. After 20 years, he was the world's biggest movie star. In 2003, he was elected governor of California and became a household name around the world.
Chronicling his embodiment of the American Dream, Total Recall covers Schwarzenegger's high-stakes journey to the United States, from creating the international bodybuilding industry out of the sands of Venice Beach, to breathing life into cinema's most iconic characters, and becoming one of the leading political figures of our time. Proud of his accomplishments and honest about his regrets, Schwarzenegger spares nothing in sharing his amazing story"
---
Until next week remember….
"When you get older, you learn certain life lessons. You apply that wisdom, and suddenly you say, 'Hey, I've got a new lease on this thing. So let's go.'" Robert Redford
---
Thanks for reading! Before you go, if you have found value in this edition of the newsletter, or want to support the content I'm producing, you might consider buying me a cup of coffee!