Discover more from Older Not Over
A newsletter and community for those who thought it was too late to change the course of their lives. Just because you're older doesn't mean it's over.
#4 - Remembering Sir Ken Robinson and our latest podcast teaches us to 'Shut Up, Move On'
A newsletter for those who thought it was too late to change their career later in life and embark on a new adventure, curated by Alan Swan.
Hello and welcome to this weeks issue of 'Older Not Over'.
Sometimes you come across a book, a film or a piece of music that stops you in your tracks. I can remember that very moment as if it was yesterday. It was 2006 and I accidentally came across a TED talk with a then little known academic called Ken Robinson. It was called "Do schools kill creativity?" and would become the most-viewed TED talk of all time, having been seen more than 65 million times. I was 26 years old and its core message below has stuck as my life anchor ever since.
"Kids will take a chance. If they don't know, they'll have a go. Am I right? They're not frightened of being wrong.

Now, I don't mean to say that being wrong is the same thing as being creative. What we do know is, if you're not prepared to be wrong, you'll never come up with anything original — if you're not prepared to be wrong. And by the time they get to be adults, most kids have lost that capacity. They have become frightened of being wrong. And we run our companies like this, by the way. We stigmatize mistakes. And we're now running national education systems where mistakes are the worst thing you can make.

And the result is that we are educating people out of their creative capacities. Picasso once said this — he said that all children are born artists. The problem is to remain an artist as we grow up. I believe this passionately, that we don't grow into creativity, we grow out of it. Or rather, we get educated out if it"
"Take a chance. Have a go." It's a mantra I tell myself at every opportunity. And it's the very message that has led me to produce this newsletter and podcast on a weekly basis. It's this message I hope inspires you to consider taking a chance and to definitely have a go. No matter what age you are.
Ken Robinson died last Friday, August 21, 2020, after an extraordinary life as one of the world's leading thinkers on creativity and innovation. So this weeks newsletter is published in his honour.
Each week I send you a selection of links. But this week I send you one. That 'YouTube' link that left such a profound effect on me 14 years ago. I urge you to put aside 20 minutes when you have a quiet moment. Soak it up, let it re-energise those feelings of fearlessness from when you were a child. Let it fuel you to make that change in the comings weeks and months.
Sleep well Ken and thank you for helping this 41-year old from Dublin have a go.
Alan Swan @alanswan
As always if you feel you know someone who would benefit from this newsletter, please share the link below for them to subscribe.
---
'Older Not Over' Podcast
My guest this week is Paul McGee.
Paul McGee was born in Manchester and after an unsuccessful attempt at being a bank clerk, he studied behavioural psychology and trained as a Probation Officer. He also worked for Unilever and managed the economy beef burger production line for a while! A lengthy illness set his career back for nearly three years, and when he recovered he decided to form his own company. Since then his 'Mancunian Motivation' has helped hundreds of thousands of people around the world achieve better results in life and have more fun in the process.
Paul's bestseller 'SUMO, Shut Up Move On' was published in 2005, one of 11 books he has written. He is Capstone's bestselling author of all-time. He is also one of the UK's leading speakers on the subject of change, workplace relationships and motivation. He is in great demand at seminars, conferences and staff training sessions and has some of the world's largest companies amongst his clients, including the NHS, Dyson, Sainsburys and Manchester City football club. Paul has spoken in 41 countries and his work has been endorsed by many, including ex England Rugby coach and World Cup winner, Sir Clive Woodward. A variety of his books can be found here
To listen to the latest episode of 'Older Not Over' click on your favourite platform.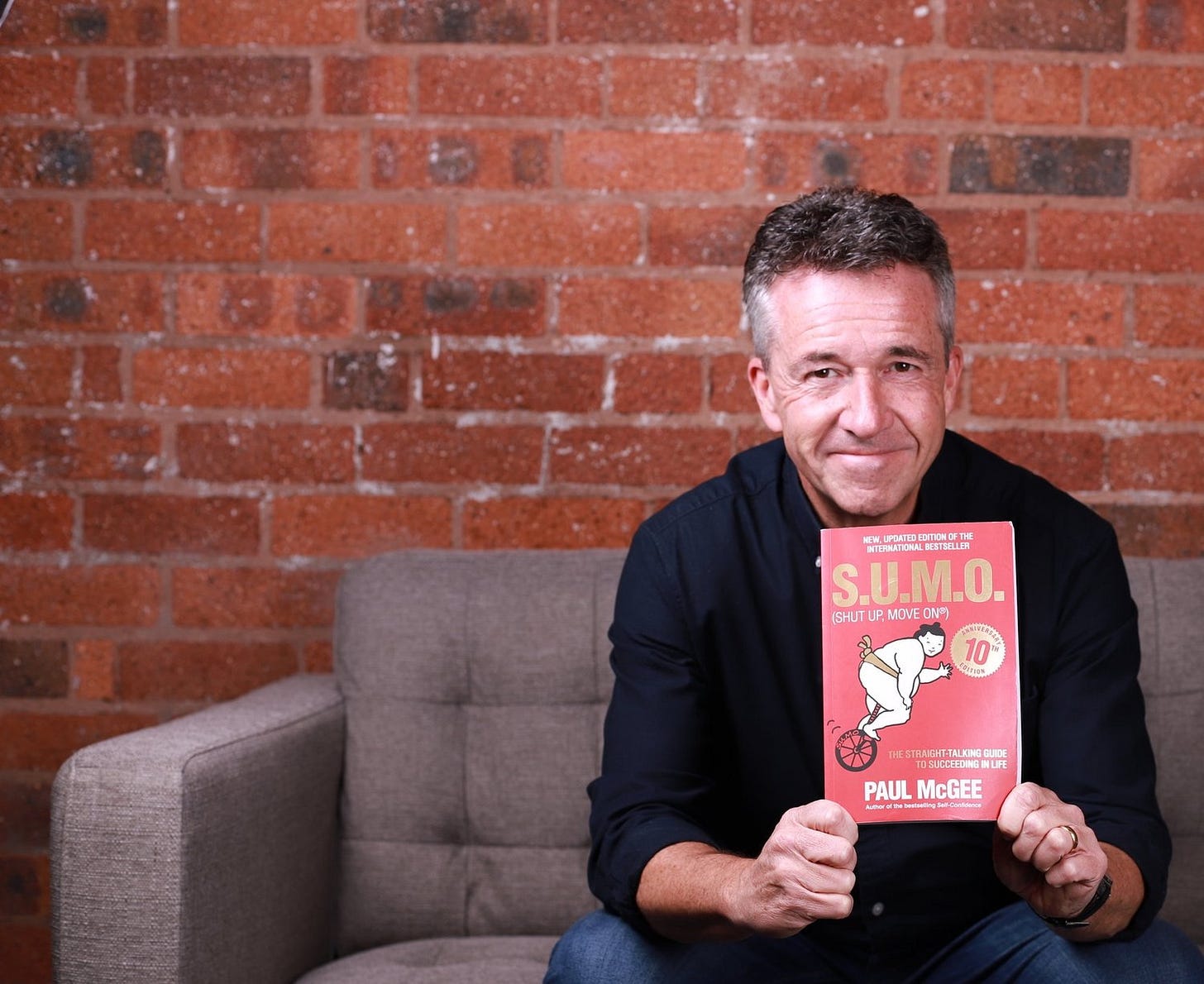 As always if you feel you know someone who would benefit from this newsletter, please share the link below for them to subscribe.
---
Until next week remember….
"

Every single one of the 100 billion lives who have walked the face of this earth is unique and unrepeatable. To be born at all is a miracle, so what are you going to do with your life?" Sir Ken Robinson
---
Thanks for reading! Before you go, if you have found value in this edition of the newsletter, or want to support the content I'm producing, you might consider buying me a cup of coffee!